Being nerdy or geeky doesn't mean you have to be a fashion disaster. The truth is, this time geek has become chic and fashionable. People are now celebrating their geekiness in a lot of ways and even fashion is being invaded. Check out the latest trends in geek and nerd fashion!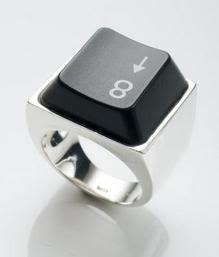 Geeks can be technology-savvy and chic, stylish and fashionable.Designer Manuel Bozzi seems to be trying to make a similar statement with this piece of jewelry. The geeky ring has a keyboard mounted on it in lieu of a stone. The band is made of pure sterling silver and is priced at €165 or almost $255. This ring screams, "geek" loud and clear, and there is nothing wrong with that.
USB Flash Drive Swarovski Crystal Engagement Rings make it pretty high on my list o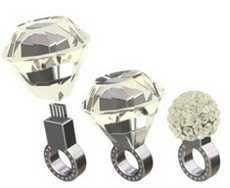 f geek chic
proposal accessories.
The glitzy Swarovski baubles, which come in a variety of cuts and sizes, come off the top of the ring to reveal the USB stick. It also comes with a necklace so you can always wear it around your neck instead.
What an adorable way to store loving memories! Geeky and cute! But for now, it's just a concept by designer
Jennifer Flume
, but it's really very likely something like this would go into production.
This ring box with a tiny LCD player embedded in the lid will do it for you! The Euricase
has a 2"
screen and carries up to 60 minutes of sound, so you can mumble on for an hour as she evaluates the worth of the gem. This one would cost you $200!
Wireless internet… this is something I can't live without for a week? You don't have to go far
these days to find it, but until Wi-Fi is everywhere, this t-shirt can help out tremendously (as well as score some points with fellow nerd-friends.)
This glowing, animated tee detects 802.11b or 802.11g signals and displays the strength directly on the front of the shirt. $29.99USD