What is it about rainy days that makes my family crave and makes me want to experiment with cooking? It has been raining for the past two days and with nothing much to do around the house, I whipped up this pasta with sardines and pimiento sauce.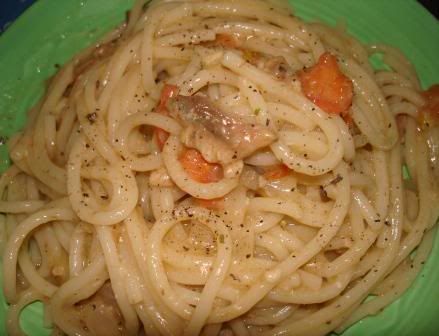 Ingredients:
250 grams pasta, cooked per package directions
1 small pack all purpose cream
2 cans sardines in pimiento sauce, flake the sardines, reserve the sauce
1 can pimiento diced OR 1/2 red bell-pepper, diced
1 small carrot diced
2 cloves garlic, chopped finely
1 large white onion, chopped finely
salt, pepper and sugar to taste
oregano (dried or fresh)
Procedure:
1. Saute garlic, onion in 2 tbsp. olive oil or butter.
2. Add in the small carrot and pimiento sauce (from sardines) and simmer for a minute.
3. Add in diced pimiento and flaked sardines. Simmer for a minute.
4. Add the cream and stir for a minute to mix well.
5. Toss in the pasta and mix well till well coated with sauce.
6. Add salt, sugar, and pepper to taste.
7. Sprinkle with oregano (optional), if you're using fresh oregano add in with pasta.