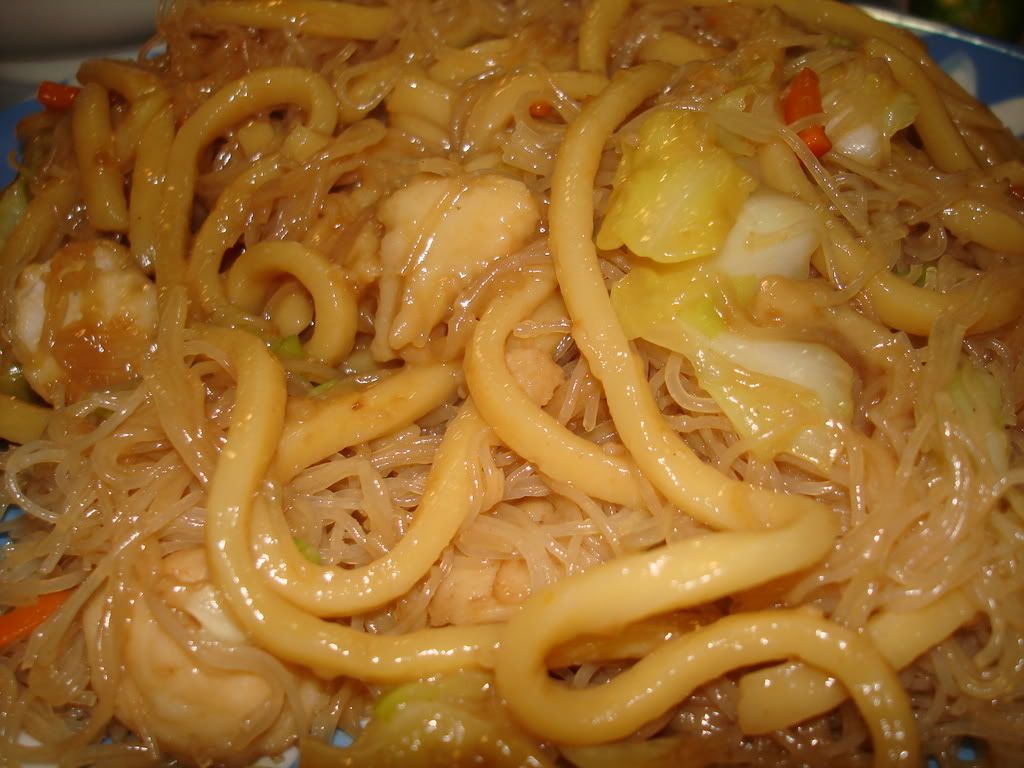 Today is my father's 78th birthday. I was talking to my mom early this morning and I asked her how are they going to celebrate Pa's birthday. She said, among other things, of course they are cooking pancit guisado..
Pancit guisado, canton, bihon, lomi, palabok and other pancit variants are so common to the Filipino dining table and even if its really Chinese in origin, we Pinoy's managed to make it taste so deliciously Filipino. A typical Filipino would always want a variant of pancit on important days like birthdays, and as for me and my husband, we consider it our comfort food!
Wikipedia says the word pancit is derived from the Hokkien word
pian i sit
, which literally means
something conveniently cooked fast
. Well, I think part of it appeal aside from its yummy taste is its easy and fast preparation.
I've been doing some research and was really amazed that Pancit has actually a lot of variations. Most common is pancit bihon and pancit canton.
Pancit bihon is made of very thin rice noodles fried with soy sauce and some citrus (Filipinos usually use kalamansi) and possibly with patis or fish sauce, and some variation of sliced meat and chopped vegetables. The exact bihon composition depends on someone's recipe but usually, Chinese sausage and cabbage are the most basic ingredients in a pancit bihon. Here's a recipe of basic
pancit bihon
.
Pancit canton is also cooked like pancit bihon the difference is the noodles used. Pancit canton noodles are thicker, round in shape, yellowish in color and no worries , the ones in the market are usually labeled. Want to try your hand cooking it, check out this very visual recipe of
pancit canton
.
Another Pinoy favorite is pancit sotanghon variant, not really a daily fare but served usually on special occassions. Vermicelli noodle soup with a chicken broth base. It may include some kind of meat and vegetable. A typical
sotanghon
is made with kalamansi or lemon, sliced straw mushrooms, slivered dark-meat chicken and green onion. Some also uses annatto seeds to lend more color to the soup. Some like it dried out, some prefer it with some soup. Here's the
recipe
.
Pancit Palabok
and
Pancit Luglug
are essentially the same dish, the difference being primarily in the noodles used in the recipe. Luglug uses a thicker noodle than the traditional bihon of palabok. Both types use a round rice noodle (often specifically labelled for pancit luglug or palabok) smothered with a thick, golden shrimp sauce or other flavored sauce, and topped with: shrimp, chicharon, hard boiled eggs, tinapa flakes, minced green onions.
It's obvious we love pancit. After all, I heard old people saying, it's food for long life..